Four reasons to open a venue of your own
Why open your own VR Base venue? A good question!
We give you four good reasons below:
Growth Market
The market for virtual reality, location-based experiences is growing by 34% per annum.
Rapid ROI
You get a return on your investment after 1.5 years.
New locations
VR Base now has 2 locations, and is still growing.

Up to 48 playes
Your VR Base venue can take up to 48 players at once.
Be part of the future of entertainment
One of the First VR Businesses in Europe
We opened in 2018 and were one of Europe's first providers of free-roam VR experiences: VR experiences that allow you to move around, untethered by wires and cables. We develop our VR experiences in-house, for the broadest range of target audiences. Which makes them truly unique. Your customers won't be able to play them anywhere else. To offer everyone the best possible experience, we make non-stop investments in the latest technologies.
What's more, VR Base has the biggest VR gaming area in Europe with an arena that can be made up to 1200 m². So, for very good reason, we have great reviews on Facebook & Google. As a franchisee, the advertising this gives you is priceless: your customers relieve you of some of the marketing work, free of charge. When the venue is closed to the general public, we give businesses the opportunity to arrange activities in our gaming areas, such as VR training courses and simulations, and 3D visualisations.  All of which brings in extra revenue.
"We get the chance, thanks to VR Base, to be part of an unbelievably innovative concept. Virtual reality location-based experiences are without doubt a revolution in the entertainment sector."
Dries Roels, owner of STIXN (VR Base Leuven)
A strong organisation behind you
We have just one goal in mind for every franchisee: to let you run your own VR Base.
We give you all the support you need. Essentially, all you provide is the location.
Branding, software, hardware, games, game-master training,… you name it, it comes through us!
It is vital that your hands are free to make a success of your own VR Base venue.
Your VR Base could look like this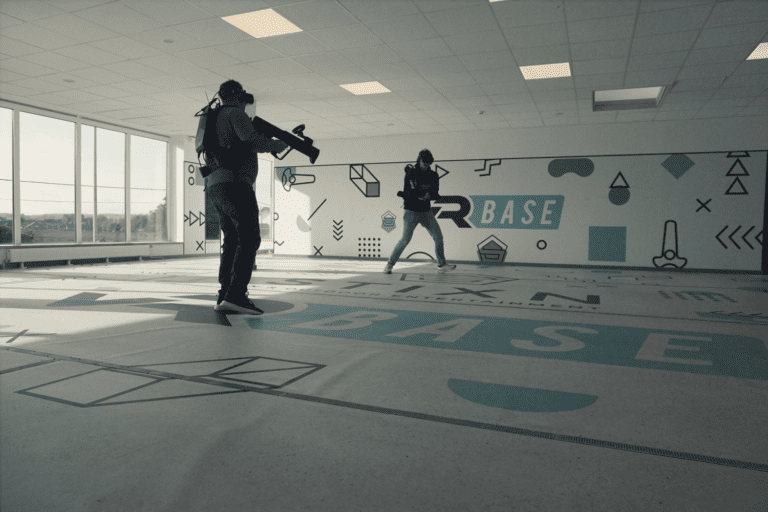 Interested?
Come and talk to us.
Would you like to open a VR Base venue and play a role in the future of entertainment? Get in touch with Lode: give him a call, send him an email or message him on LinkedIn.
He will answer your questions and discuss the finer details with you. And make sure you try the experience. It speaks for itself. That way, you will know what you are letting yourself in for.